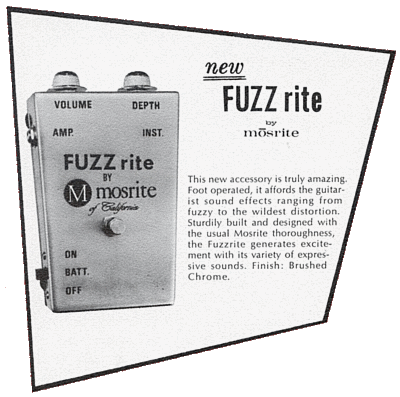 If you

want the

FUZZrite sound,

affordable and with

no added wish-wash,

buy a FUZZbrite

I built the FUZZbrite so that I could have the Mosrite FUZZrite's 60's fuzz sound any time I wanted, without having to rely on original vintage pedals. I use carbon composition resistors and .05mf capacitors just like the originals did. The FUZZbrite is as awesome today as the Mosrite FUZZrite was in the 60s and 70s.

My FUZZbrite pedals are exact reproductions of the original Mosrite Fuzzrite silicon circuit. They are not "my take" on a FUZZrite. They are not "my version of a Fuzzrite with extra [insert additional whatever]". They are a FUZZrite.




Listen to the licks below.


Lick
1

Sample Licks

In each sample, a lick is played twice. One is a vintage FUZZrite and one is my FUZZbrite.


Which is which?

Lick
2




---



"A Dream of Nostalgic Sounds Come True"

I grew up hearing 60s garage rock, spaghetti western/spy soundtracks and scores, Morricone's "pop" music that used fuzzed out Fender single coil guitars, not to mention hits from that bygone era like "Satisfaction." Ashbass absolutely nails those classic sounds with the FUZZbrite. Lower depth settings yield bassy, less gainy sounds, but as you approach ten on the dial you will start getting a buzzy, razor-sharp top end that will slice through any mix. This pedal is built like a tank and sounds raunchy, raucous, edgy, and dangerous, the way fuzz--and rock and roll--was meant to be! These are the real deal and worth every penny. Other clones of the Mosrite FUZZrite didn't quite sound period correct to me, but the FUZZbrite does. My search is finally over. Thanks Ashbass!


THOMTON