Black Plastic on 1957 Historic Reissue

This one isn't a big deal mod really. What I was going for is the look of the original first release 1957 Goldtop Les Pauls. The first couple of hundred came with black plastic instead of the cream that is more commonly associated with those guitars. The photo below is of an early 1957 Goldtop. Click the image to open a photo gallery of that guitar.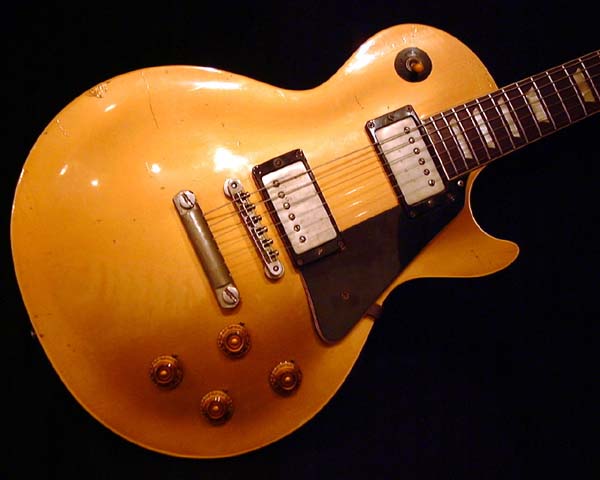 When I got my Historic 1957 Reissue (R7) I was disappointed with the color of the "cream" plastic. Really, it wasn't cream at all but rather a light brown or something. For all of my hunting for more vintage correct colored plastic, I could find none that wasn't silly expensive. So I choose black because you pretty much can't mess up the color black. Plus, it is a valid vintage color.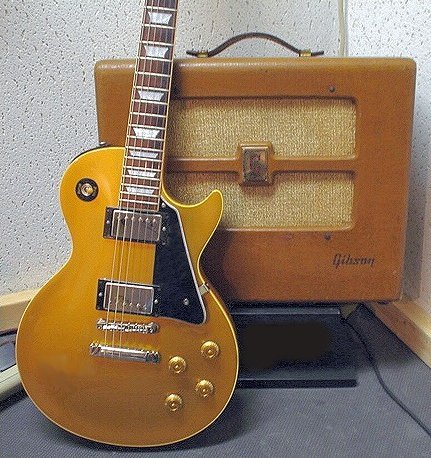 To get the pickguard I sent the one that came with the guitar to WD Music Products so they could make a new one based on it. I got a five-ply black/white/black/white/black color setup. I got the vintage style (thinner than current production) toggle switch ring which also has the vintage correct font and letter application method. The pickup rings I took from my '72 ES335. Now, you can get a full black plastic kit from RS Guitarworks.

The photo above was taken before I had the top repainted with a more vintage correct gold paint. The original color seems darker, more butterscotch, that it really was. The black pieces and lighting make it look darker. The photo below with my '54 reissue shows the new paint. Here again, the lighting has an effect on the color, although it *is* a much nicer gold.