FUZZ is back!
And ASHBASS has it.
My FUZZbrite pedals are exact reproductions of the original Mosrite Fuzzrite® circuit with the added convenience of true-bypass switching, input jack battery on/off, and AC power input.
My circuit mirrors original Mosrite Fuzzrite® pedals and is *not* based on the many incomplete schematics available on the internet. With carbon composition resistors and .05mf capacitors just like the originals, the FUZZbrite is as awesome today as the Mosrite Fuzzrite® was in the 60s and 70s. Click the Sample Licks at the bottom of the page to hear what it's all about.
Click here to read Harmony-Central user reviews.
Click here to read Ebay feedback.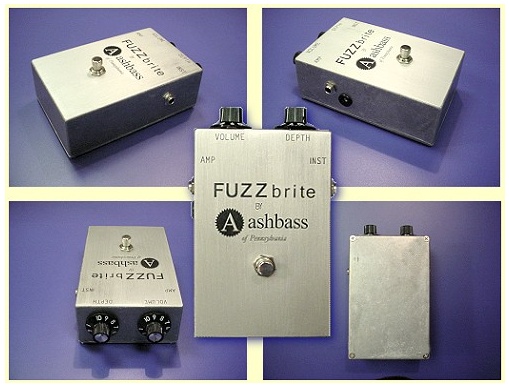 "The pedal kicks total @ss. Best fuzz I've ever played. I'm taking it off your hands immediately."
Sean Lally [Teen Riot,
Frampton Brothers,
Don Capicola,
Breakup Society]
Lick
One
(320k)
Lick
Two
(823k)



The sample licks were recorded clean and then played from a CD into a FUZZbrite and a vintage Mosrite Fuzzrite® pedal. Each sample has the same lick played twice, once through each pedal. I won't say which comes first or second in each sample. That's how good the FUZZbrite sounds.